Greetings!
Men's accessories can certainly add that extra pop to an outfit.
One accessory I feel can show a sophisticated and classy side is a fedora.
The fedora for some reason can take an outfit to another level.
Now there are right and wrong ways to wear a fedora.
First things first, make sure you buy the correct size.
You do not want a fedora that fits like a bucket hat and falls down over your head.
Nor do you want to wear a fedora that leaves a mark on your forehead like a skull cap. Let the fedora sit comfortably on your head and find the right angle that best features you!
Next you want to make sure you wear the right fedora with the right outfit.
Matching the fedora with your outfit is necessary because you want to show off the sense of style you have.
You do not want your fedora to stick out like a sore thumb.
Stick to black, brown, navy, olive, grey, or tan fedoras.
Going outside of these colors will most likely throw a great outfit off.
You may even be able to throw in a feather to add some style.
If you ever want to switch it up, just make sure the color scheme stays in tack from head to toe!
Wearing the right fedora at the right time is also a key to pulling off the look.
During the day, you should stick to straw fedoras or lighter colors.
When the sun sets, you should look to pull out a felt fedora.
You never want to look like you are over doing it, so wearing the right fedora at the right time shows a level of sophistication.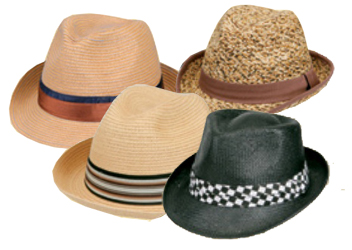 Make sure you wear your fedora with a collared shirt.
Wearing a fedora with a t-shirt makes the fedora look cheap and tacky. If you are going to wear a fedora, wear it like a gentleman!
This is not saying you have to wear a fedora with a 3-piece suit, but you should take pride in wearing your fedora.
Treat it with class just as you treat yourself with class!
Lastly, remember every fedora is not for you.
Try out different fedoras before you make your purchase.
If you have a long head, a tall fedora will not give you the best look.
For a rounder face, picking out a wider brim may not be the best choice.
Play around with different fedoras before making a choice.
Finding the fedora that fits proportionately and properly will be worth the time.
These are just a few thoughts on wearing a fedora.
Remember, you wear the fedora; the fedora should not wear you!
Be confident when you wear it because you know what you're doing!
Now let the fedora tilt at the right angle, go out and enjoy your day or night!
Until next time…
A Gentleman's Mentality,
Jason Christopher